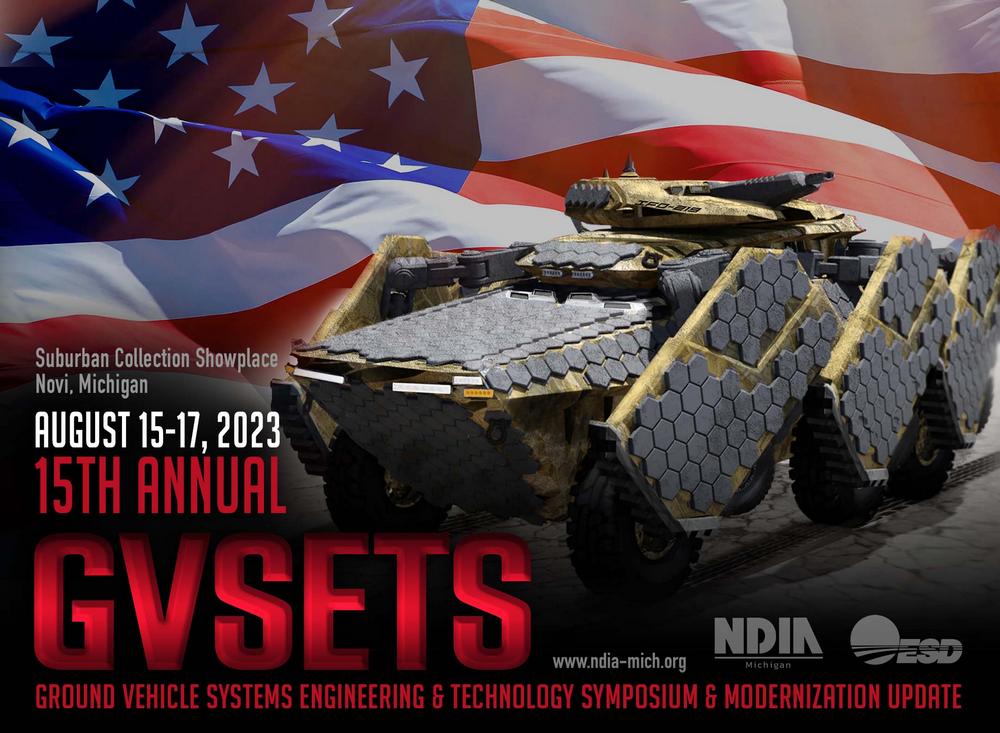 15th Annual GVSETS Call for Papers
Technical Session Presentation Day: August 15, 2023
Paper Submissions are closed
Meeting the Army's Transformational Needs
The Technical Sessions serve as a forum to bring together members of the government, academia, and industry with common interest. The focus of the 2023 GVSETS is partnering with industry, government, and academia to meet the Army's transformational needs. To facilitate this discussion, the NDIA Michigan invites you to submit a technical paper which details how your work is meeting the Army's transformational needs. Selected papers will be presented on Tuesday, August 15th and ultimately published.
The 2023 GVSETS Technical Committee is excited to accept technical papers in the following six topic areas:
Advanced Materials & Manufacturing (AMM): The AMM Technical Session serves as a forum to discuss novel approaches, new applications and lessons learned in the integration of advanced materials and manufacturing processes into Army ground vehicles. It considers AMM challenges through the complete vehicle life cycle, from new design through the sustainment of legacy systems. Topics of interest are, but not limited to:
Advancements in conventional manufacturing processes
ICME case studies
Process monitoring
Coatings
Material design
Advanced manufacturing methods
Additive manufacturing
Hybrid manufacturing
Digital factories
Robotic production
Autonomy, Artificial Intelligence, & Robotics (AAIR): The AAIR Technical Session is primarily focused on practical applications which have been demonstrated or have a clear path towards demonstration on real world robotic platforms, though particularly promising theoretical work is also of interest. AAIR is focused on the latest developments, but not limited to:
Autonomous and operator-assisted operation of robotic assets
Novel sensors and multimodal sensing integration
Robotic system design
Counter-robotic defenses
Digital Engineering/Systems Engineering (DE/SE): The DE/SE Technical Session provides a technical forum for the exchange of transformative ideas, approaches, techniques, applications, and lessons learned in the Digital Engineering/Systems Engineering of ground vehicles. The session will facilitate learning more about the most recent innovations, trends, experiences, and issues in DE/SE. Topics of interest are, but not limited to:
DE/SE in support of multi-domain operations/cross functional teams
Digital Engineering / Model Based System Engineering (MBSE) & Architecture
Application of DE/SE practices in current defense programs
Trade space & decision analysis
DE/SE advanced tools
Modeling Simulation and Software (MS2): The MS2 Technical Session covers both the development of advanced and novel MS2 methodologies, as well as the application of existing technologies to military vehicles. This technical session will highlight current developments in MS2 technology and discuss gaps and challenges in the MS2 application domains. Topics of interest are, but not limited to:
System physics M&S
Lightweight materials and structures M&S
Autonomy simulation
Software development and computing
Testing and validation
Data analysis and modeling
Human-in-the-loop M&S
Virtual experimentation
Co-simulation
Physical and virtual prototyping
System concepting
Modular Open Systems Architecture (MOSA): The MOSA technical session will highlight current developments and applications of Modular Open Systems Approaches (MOSA) to enable incremental development, enhance competition, innovation, and interoperability across the Ground Vehicle Community. Topics of interest are, but not limited to:
System architectures
Software architectures
In-vehicle networks
Onboard computing
Safety critical systems
Mission critical systems
Onboard video distribution
Sensor systems
Command, Control, Communications, Computers, Cyber (C5) Intelligence, Surveillance, and Reconnaissance (ISR) (C5ISR) systems
In addition, vehicle architectures and mission critical systems are increasingly software dependent, making them desirable targets for adversaries to exploit. The government is interested in techniques and approaches which enhance the cyber resiliency of open architectures to secure the tactical edge of the modern Internet of Battlefield Things (IoBT). Topics of interest are, but not limited to:
Concepts and implementation of zero trust architecture principles
Secure on-board data communications with optional encryption/cryptography
Electronic Control Unit (ECU) Authentication
Approaches/technologies to protect against comprises in the hardware and software supply chains
Power and Mobility (P&M): The P&M technical session covers both research and development of various technologies and application of such technologies to specific military vehicles. This technical session will highlight current developments in P&M technology and discuss gaps and challenges in the P&M application domains. Topics of interest are, but not limited to:
Vehicle electrification including motors, generators, energy storage devices, power electronics, and high voltage architectures under high temperature conditions
Hybrid electric and electric drive propulsion systems
Advanced running gear systems
Advanced power generation and power transmission technology including mechanical and non-mechanical systems.
Key Dates
August 1, 2023 - Final presentation submission *
August 15, 2023 - Paper Presentation
Technical Paper Template Technical Paper Template (LaTeX) LaTeX PDF